constructions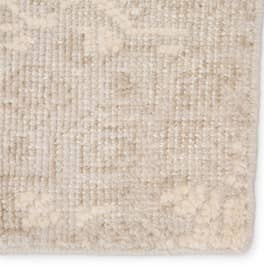 Individual knots are hand tied on a vertical loom, one row at a time by experienced artisans. Depending on the density of the knots, rugs of this construction can last for generations. Intricate and textural hand-carving with high-low pile effects can be a feature of these craftsman-made rugs. The average hand-knotted rug takes 240 days to make. Typically, the hand-knotted construction features durable wool or wool blends with luxurious silk or viscose.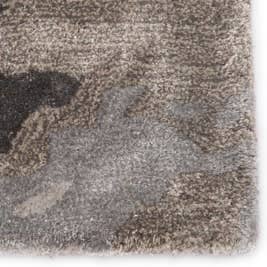 Yarn is hand-punched through a pre-woven fabric with a specialized tufting gun. The hand-tufted construction features precise designs, typically plush pile, and fibers of wool and/or viscose. There are a couple of techniques within the hand-tufted construction, including the hand-hooked process. Hand-hooked rugs are not sheared after the tufting process for a smooth, cut pile and instead have an uncut, looped pile. A cotton-latex backing is glued on to hold the knots in place, offering strength and rigidity to the rug.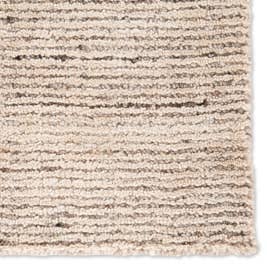 Handwoven or hand-loomed rugs are made on hand-operated looms where weavers use a rod to shoot the fibers vertically across the length of the rug. The fibers within this construction may be felted or twisted wool yarn, soft and fine viscose, synthetic yarns, or natural fibers. Handwoven rugs usually have low to medium piles, other than high-piled shags, and may or may not have a canvas backing.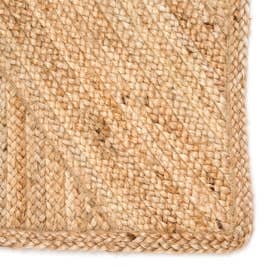 Natural fiber rugs are not a true construction, but they are a unique quality of rug type. Plant-based fiber rugs are woven of jute, sisal, seagrass, hemp, and more, giving them a distinct coastal, bohemian, or organic look. Sometimes dyed or bleached, natural fibers can take coloring quite well.
Flat-woven rugs, or dhurries and kilims, consist only of warp and weft threads, so they do not have the thickness of a knotted or tufted rug. With their flat finish, they are durable, easy to care for, often reversible. Flat-woven rugs are typically made of wool, cotton, natural, or synthetic fibers.
Power-loomed rugs are machine made on electrically powered looms that are controlled by computers. They feature a wide range of color options, complex designs, a variety of fiber type, and shorter lead times than other constructions. Typically made of synthetic fibers like polyester, polypropylene, or PET yarns, this construction is a good option for easy care, owing to their inherent stain-resistant fiber quality. If viscose or other cellulose fibers are used, these power-loomed qualities can have a soft and luxurious, though less durable, characteristics.
materials
Jaipur Living sources our wool from live sheep sheared ethically and humanely, as a natural part of their health/maintenance routine. Wool fibers are durable, naturally resistant to stains, and wonderful for insulation. Comforting underfoot, wool is a great option for adding a soft and plush textile to any regularly trafficked space in the home. New wool rugs—especially hand-tufted—will shed at first, but frequent vacuuming will help diminish this natural property.
SILK, SARI SILK, VISCOSE, & TENCEL
Lustrous and luxurious in look and feel, silk, viscose, and Tencel are perfect options for a fine, sumptuous material underfoot. With their subtle sheen and extremely soft hand, these fibers are best suited for low-traffic areas and bedrooms due to their delicate composition. Sari silk, or recycled strips of fabric from traditional silk saris, is a vibrant and shimmery fabric with a beautiful textile story. When fine fibers like viscose, sari silk, and silk are blended together with a durable material like wool, they are sturdier and more fortified for a longer-lasting addition to homes.
Generally used in flat-woven constructions, cotton is soft and easy to care for. It is also more affordable than wool. Cotton rugs are a great option for kid and pet-friendly homes and typically have a more relaxed or casual look.
synthetics
(Polyester, Polypropylene, PET, Acrylic)
Mostly used for power-loomed constructions, these manmade fibers imitate the look and feel of natural materials like wool and sometimes silk. They are strong, durable, and inherently stain-resistant materials that are easy to clean and care for—lending the perfect option to kid and pet friendly homes or heavily trafficked rooms. Not all synthetic rugs can be used outdoors, but polyester, PET (recycled plastic bottles woven into a soft and durable fiber), and polypropylene fibers are often treated to be weather-resistant for outdoor use. Compared to other materials like wool and silk, synthetic rugs are a fraction of the price and are perfect for bringing stylish and budget-friendly looks to homes.
naturals
(Hemp, Jute & Sisal)
Natural fiber or plant-based fiber rugs ground spaces with organic and versatile texture. Jute, sisal, hemp, and sea grass rugs are durable and strong, perfect for layering with other textiles, and they are sourced from renewable materials. While many natural fibers are coarse and sometimes rough to the touch, jute is the softest plant-based fiber and often has a naturally soft hand. These rugs are a great accent in mid to high-traffic areas but should not be placed in spaces with a high-moisture content.